Start your quote!
Select the amount of
cover you require.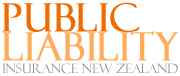 If you need to make a claim on your public liability insurance, the first step is to contact your insurance broker or adviser (if you have one) or the insurance company directly.
Here at Public Liability Insurance New Zealand we are a referral service only and not insurance brokers in our own right. For this reason you should not contact us in the event of a claim.
When you requested a quote from our website we would have referred your details to an insurance broker. If you proceeded with a policy via that broker, then you should contact that same broker in the event of a claim.
If you are unsure of who your broker is, or if you would prefer not to deal with your broker, you can contact the insurance company directly.
The insurance company's contact details should be on your policy documents, but for your reference we have listed the claims phone numbers for some of the major insurance companies below:
Allianz – 131 000
AMP – 131 436
CGU – 131 532
QBE – 133 723
Vero – 1300 888 073
Zurich – 132 687
If your insurance company is not listed above and you do not have their contact details, please feel free to contact us and we will do our best to help you locate the right contact details.
If an event has occurred which you believe may lead to a claim, it is important to make contact with your insurance company as soon as possible.
You should avoid admitting any sort of responsibility or liability until you have spoken with the insurance company, as they will be the ones to decide on this once they have completed their own investigation of the incident.
For more information about making a claim on your public liability insurance please contact you broker.